Date
01 Nov 2021 — 28 Nov 2021
Location
Timisoara, Casa Tineretului
---
This year, we can both see and hear the events that make Timisoara the Cultural Capital of Europe. One of them is "Analog Mania", an exhibition scheduled between November 1st and 28th. Cultural Ambulance is the association responsible for this event, in partnership with the Youth Organisation of Timisoara.
"Analog Mania" has become an art movement by now, after years of dedication to analog art and technology. Founded by Emil Kindlein in 2013, it started off by introducing old and classic processes of analog photography, 8 and 16 mm film screenings and analog sound experiences in top art galleries of Timisoara. Self-titled as "the smallest festival in town", Analog Mania is loved for the very special personal, honest and intimate atmosphere it manages to create, and also for the pristine selection of work by international artists and guests.
Together with partner events like Revela'T (Spain), Analogue Now (Germany), Vinyl & Music Festival (Austria), Analog Mania is part of a widespread analog renaissance.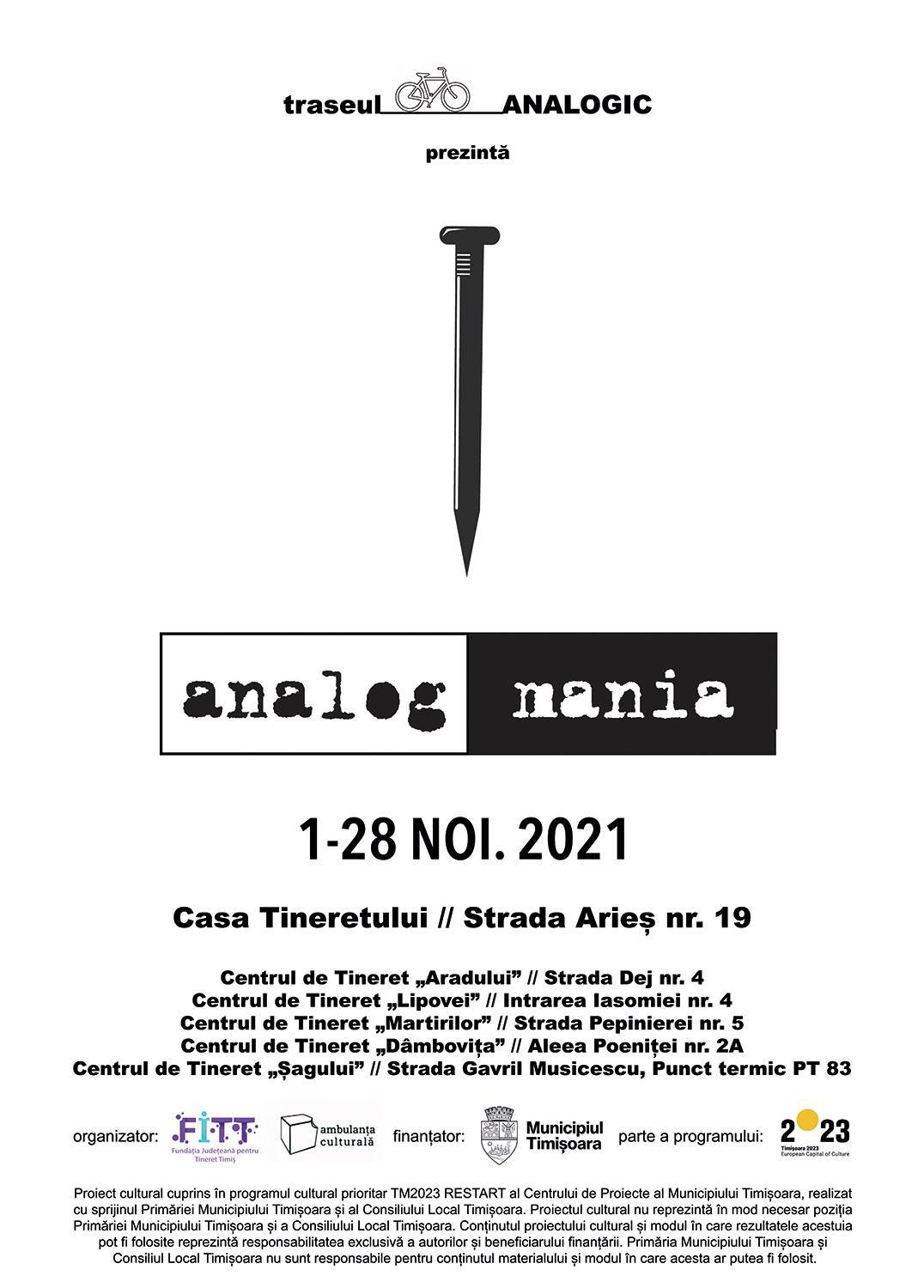 50 artists from 9 countries are expected to showcase their work under a common theme that defines the ninth edition: ONEicity. Artists are called to participate with a single outstanding object, the one that encapsulates the whole creative identity of the artist, one which defines, refines and unfolds their entire vision in a one-piece exhibition.
"We rethink the relationship between the old arts and crafts, we reinvent them by mixing them with modern technology and aesthetic and we recreate a new world, starting from ancient tales about masters and disciples" - in a nutshell, the idea behind Analog Mania, in the eyes of its organizers.
Viewers may want to know that the exhibit is spread in five other locations, apart from the main event venue at Casa Tineretului (home of the Youth Organization in Timisoara). Here's a list of all the addresses:
Youth Center Lipovei (no. 4 Intrarea Iasomiei Street)
Youth Center Calea Martirilor (no. 5 Pepinierei Street, thermal point 54)
Youth Center Dâmbovița (no. 2A Aleea Poeniței Street)
Youth Center Calea Șagului (Gavril Musicescu Street, thermal point 83)
Youth Center Calea Aradului (no. 4 Dej Street, thermal point 35)
Analog Mania is part of Analog Route, a three-pillar project coming to light during Timisoara Cultural Capital of Europe:
Analog Experience, an exhibition which aims to interact with its public via workshops, happenings in public spaces or alternative locations and an itinerant museum experience
Analog Mania is an already popular festival as of 2013, where artists from all around the world expose their work for one month in Timisoara
"The Embassy" of Analog Route, a pilot-project which aims to promote young artists internationally and Timisoara as a cultural capital
"This year's edition endorses creatively mature artists as well as talented young people who showcase their work in which we find the confluence of art and technique or craftsmanship, leading to a true renaissance of the analog", a few words about the concept from its founder, Emil Kindlein.
The works are divided into three main categories. This year's edition will feature works by Josep Maria Ribas Prous (Spain), Vjeran Hrpka (Croatia), Margit Hart (Austria), Tina Rowe (UK), Werner Schimpel (Austria), Thomas Glaenzel. Austria), Rene Schaeffer (Germany), Markus Kaesller (Germany), Gabi Kaiser (Germany), Misa Keskenovic (Serbia), Cristian Graure, Marius Parghel, Virgil Babuscov and Liviu Tulbure in the photography category.
From the "typo" section, the artwork belongs to Stephan Schwarz (Austria), Andreas Nader (Austria), Dr. Knoche (Austria), Sebastian Schager (Austria), Florin Arhire and Attila Bajko, whereas the "installations" belong to Gruppe 77 (Alois Neuhold, Wolfgang Rahs, Kurt Stadler, Werner Schimpl, Aurelia Meinhart - Austria), Chris Janka (Austria), Cosma Grosser (Austria), Markus Maicher (Austria), Benjamin Kiesewetter (Germany), Ochoresoto (Austria), Melanie King (UK), Florian Fusco (Austria), Sergiu Catana and Gabriel Kelemen.
The film section will feature works by Keyvan Paydar (Iran), Markus Maicher & Heidi Fial (Austria), Bebe Costinas and Gheorghe Șfaițer, while the "object" section features works by Jörg Vogeltanz (Austria), Fritz Maierhofer (Austria), Eteri Nozadze (Georgia), Wolfgang Rahs (Austria), Hermine Prügger (Austria), Lis Gort (Austria), Erwin Lackner (Austria), Maximilian Eckhart (Austria), Gigi Tăuș, Marian Ștefan and Andi Tăuș.
We're hereby invited to embark on a sensorial journey of discovering the evolution of technology in the first-ever European city to receive electric lighting (the second one in the world, after New York). In spite of the huge stain left by historical events, the city has managed to flourish and to evolve, a city which has hosted culture, music and technology in ways that left an imprint on society as we know it today.
The Analogic Route will continue until March 2022 with mini-exhibitions at the Youth Center headquarters, Youth Center Calea Șagului & Circumvalațiunii. You can visit the following exhibitions with prior appointments:
Youth Center
Markus Kaesller (DE)
Youth Center Șagului (ceramics)
Keyvan Paydar (Iran), Daliana Pavel (RO)
Youth Center Circumvalațiunii
Xavi Bassols (ESP), Adrian Anastasiu (RO), Marius Parghel (RO)