Date
24 Sep 2021 — 26 Sep 2021
Location
Timisoara, MultipleXity Cultural Centre
---
Timisoara introduces the ninth edition of Sabotage, an indoor technology and electronic music festival which took place in a brand new location: MultipleXity Center, soon-to-be a science, technology and experiment center. Thus, the perfect spot to host Sabotage Festival, the music and tech event which had a third component in 2021: feminism.
Artists all over the electro music scene have reunited on two stages: the main stage, dedicated to techno, electro, EBM and experimental music, and the second stage, which celebrates genres in the soundsystem culture, reggae and dubplate. Local and international artists, DJs, MCs and sound-engineers performed live for three nights in a row, between the 24th and 26th of September: So and Mimicof (Japan), Polychain (Ukraine), Indica Dubs (UK), Echoboy (Slovakia), Dubapest Hifi (Hungary), Jon Jitsu, Lion Riddims, Admina, Chlorys, Mitsubitchi, von Bülove and Mighty Boogie (Romania).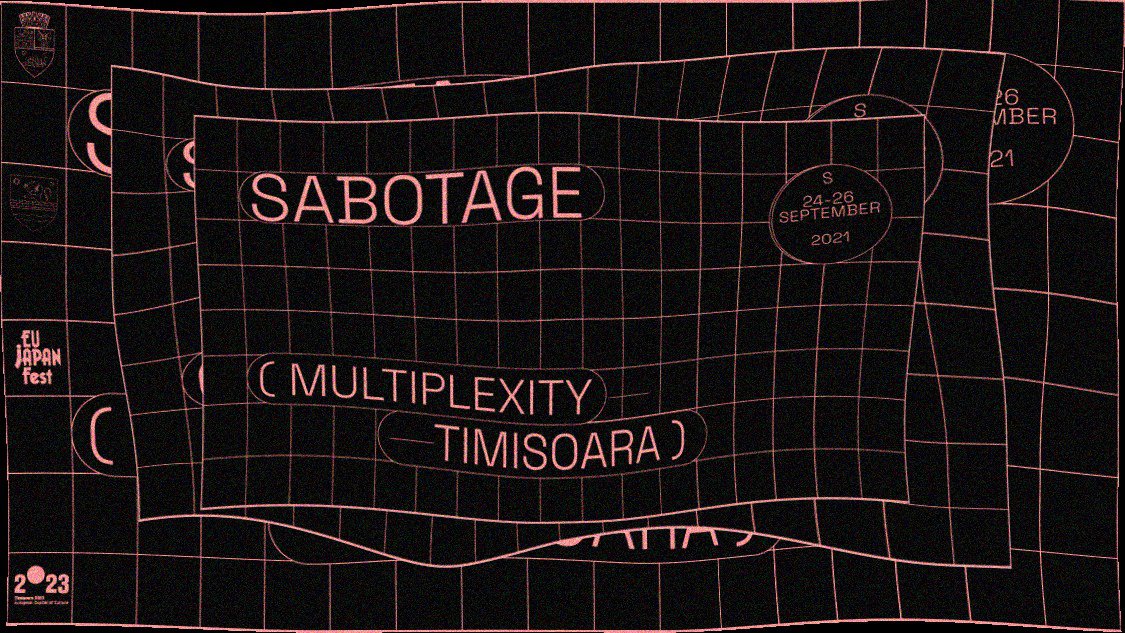 The concept behind this festival is built upon the structure of similar festivals centered in the Balkan area, and thanks to a great collaboration and strong connections between artists, the festival has managed to reach Romanian lands. This makes Romania part of the niche of electronic-music aficionados.
This year, the festival featured an elaborate schedule with concerts, DJ-sets, documentaries, workshops and conferences, multimedia art exhibitions and much more, which maintained focus not only on the electronic media and music component, but these actions have also been repurposed as tools for raising awareness towards another important topic: feminism. One of the events dedicated to feminism was the projection of "Sisters with Transistors", a documentary about women who pioneered the electronic music industry and the sexism they had to fight against. The voice of avant-garde composer Laurie Anderson accompanies fascinating archive images which follow the history of various sound experiments led by Clara Rockmore, Bebe Barron, Suzanne Ciani, Laurie Spiegel, Daphne Oram, Pauline Oliveros, Delia Derbyshire and Eliane Radigue.
Sabotage is made whole by two components: Sabotage by Day, with activities like exhibitions, theater, movie projections, conferences, workshops, pop-up stores, craft beer tasting and many others, and Sabotage by Night, where all the live performances happened.
Sabotage by Day - Knowledge Arena, MultipleXity
Estimated number of participants: 1000 - 3000
New Media Art / Exhibitions / Film / Theater
Pop Up event with local artists;
Contemporary photo exhibition, street photography, photo-documentary;
Film screenings - nightlife, clubbing, post-punk, electronic music documentaries;
Sensory experimental theater scene, organized by the Asylum Theater
Talks / Conferences / Workshops
DJ-workshop and music production with DJs or international producers;
LGBTQ Talks, collaborations with the Corp platform;
Conferences on music and the electronic music industry with international speakers, (Job Veerman from Red Light Radio in the Netherlands);
Presentation of an informative course about new hardware innovations for DJs, offered by Soundcreation;
DJ Selections / Vinyl record Fair
Electronic music program offered by DJs from Serbia (partners Drugstore, Chorbika), Croatia (Dimensions Festival), Bulgaria (Horizon), the Netherlands (Red Light Radio, Rush Hour Records) etc.
Vinyl fair organized by local partners - Viniloteca, Vinilton, Vinilcourt;
Experimental concerts
Live electronic music concert with international, experimental, obscure, clash, electro, post-punk bands;
Video mapping and light show
Socialization / Dialogue participants
The socialization area hosted by local partners Bereta, Taproom, Krafty, Hostel Costel, etc., through activities such as tasting or launching local craft beer;
Local food tasting;
Discussion about fair trade moderated by Reciproc / La Pas
Sabotage by Night - Entertainment Arena
Estimated number of participants: 500 - 2000
DJ Selections / International Collaborations / Afterparty
Electronic music shows / demonstrations in the field of electro, techno and post-punk genres by the artists present at the Knowledge Arena
Organizers, participants and artists have created strong bonds which promise spectacular events in the years to come. Make sure you keep in touch with Sabotage Festival on their social media and official website.