Date
24 Oct 2021 — 25 Nov 2021
Location
Timisoara, Stadionul Știința, Complexul Studențesc, Comuna Peciu Nou
---
Honoring the title of the European Capital of Culture, a series of important events occurred in Timișoara dedicated to visual arts, sound, books, history, performance art and many more, but one of the most important events of 2021 is dedicated to sports.
A partnership between Timișoara 2021 - European Capital of Culture, Druckeria, The Association of Supporters and the Polytechnic University of Timișoara brought an impressive event to life, which gathered sports enthusiasts and football supporters, marking 100 years of Poli Timișoara, the most beloved football team in western Romania. Thus, various events and shows were put together, linking sports with local culture in a story about tradition, connection between fans and footballers and performance.
Fans have always been important in the team's history, which is why the club's gallery is represented by the rock band Noi din Banat, who've sung for Poli Timișoara in both private events and on the field. In celebration of the team's centenary, Noi din Banat teamed up with the Philharmonic Orchestra of Banat and performed an amazing symphonic rock concert. 11 famous gallery songs dedicated to the team's history and success over the years were performed by the only rock band built around a football club, conducted by Cosmin Morariu, with original orchestration by Gabriel Almași.
Around 600 people attended the event where fans, gallery members and also families with little children enjoyed the music and energy, despite the late October cold. The number of spectators had to be limited in order to comply with pandemic restrictions and regulations. Rector of the Polytechnic University of Timișoara, associate professor Florin Drăgan conducted a speech as an opening of the event, followed by the previous rector, professor Viorel-Aurel Ștefan, with main speaker Florin Mihoc. The concert was recorded by TVR Timișoara and broadcast on November 30, at 17:30 and December 4, at 16:00, on the local television channel, but also on the TV station's Facebook page.
The anniversary is also marked by a unique catalog, which includes more than 120 pages that remind us of Poli's glorious, but also difficult moments throughout football and history. Four well-known local sports journalists Gabriel Toth, Adrian Schindarli, Valentin Silaghi and Levente Gyozo Balint wrote texts dedicated to Timișoara's most beloved football team. The catalog can be read in full here.
Footballers and amateurs played a demonstration match on the field of the Peciu Nou high-school, where Druckeria-volunteers hosted a small flag-production workshop, with stencils and sprays, bearing the team's famous purple-white shades. In addition, the students received a small history lesson about the 100 years of Poli Timișoara.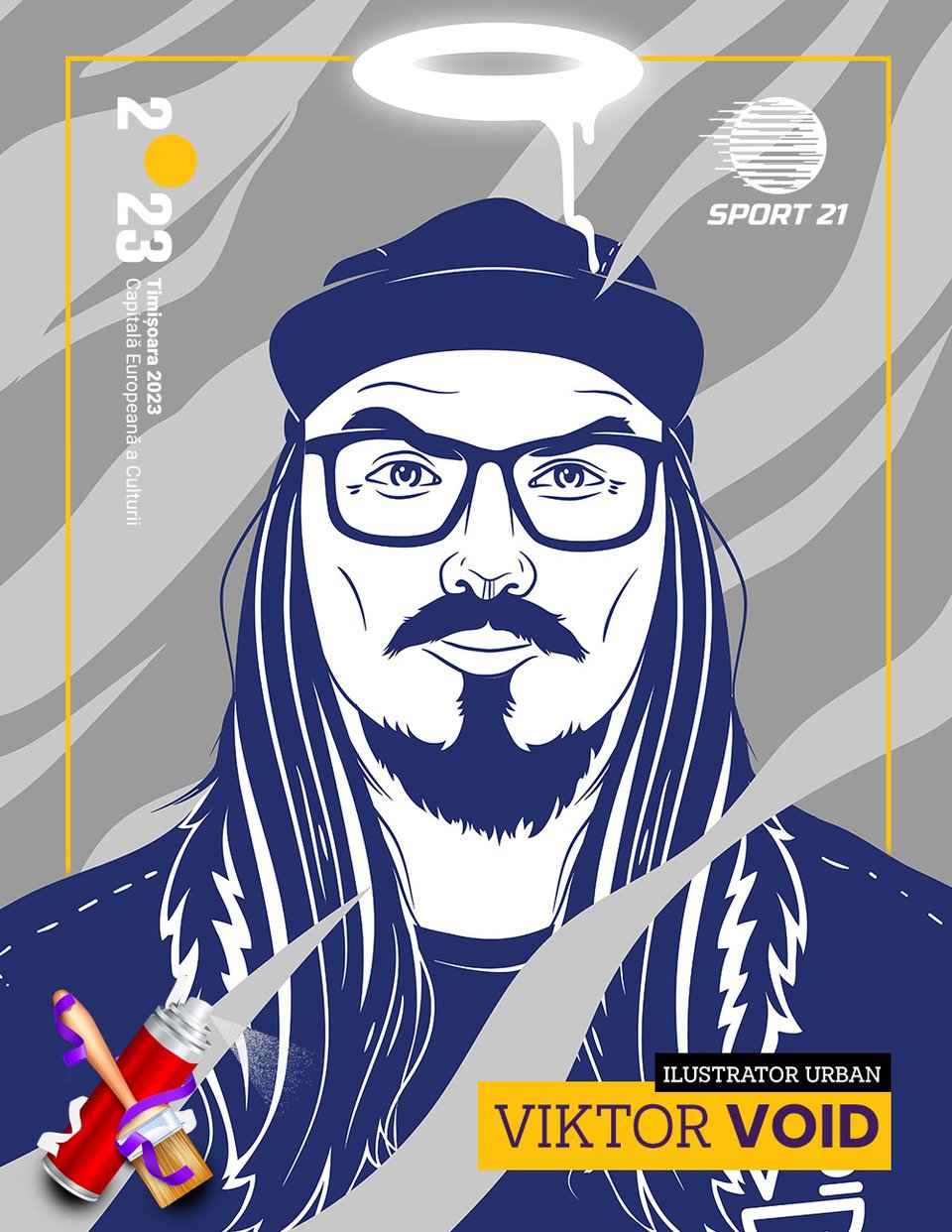 Viktor Void
Artist Viktor Void (Alexandru Băgăian) painted a huge mural honoring Dan Păltinișanu, illustrating a game phase from the 1980 match between Poli Timișoara and Celtic Glasgow, a key event in the club's history and portfolio.
The centenary was the center of various other discussions, some of which were broadcast by local and national TV stations. Moderator and producer of the show Florin Mihoc interviewed some important figures around the name of Poli Timișoara, among which professor Ion V. Ionescu, Iosif Rotariu, Emerich Dembrochi, Ioan Timofte, Nicolae Secoșan, Dan Alexa and the rector of the Polytechnic University of Timișoara, Florin Drăgan.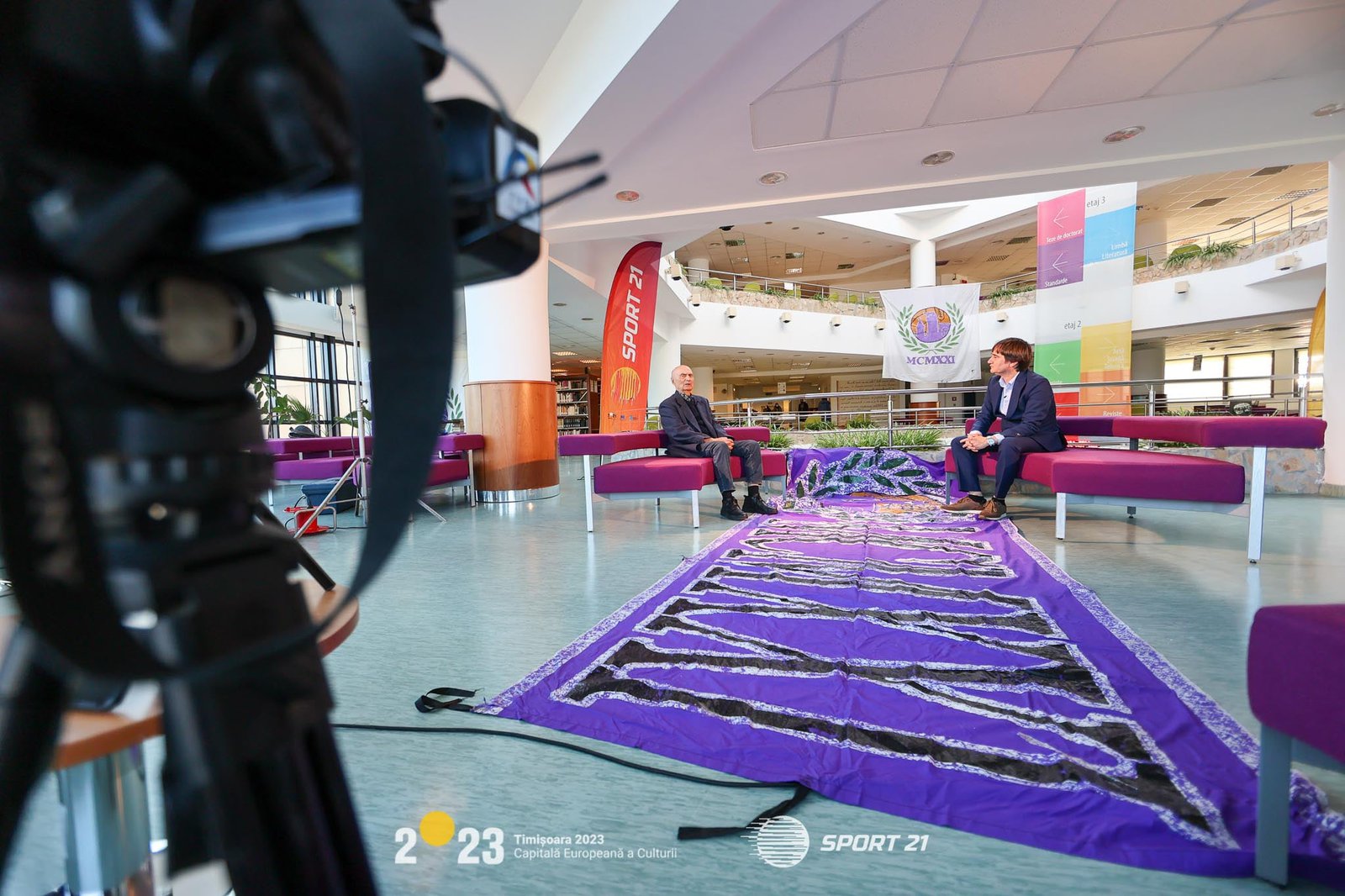 All the activities were documented through a series of video and photo recordings, which you can watch on the Sport 21 Facebook page.