Date
28 Oct 2021 — 12 Dec 2021
Location
Online
---
MOST supports the world music stage focusing on Balkan music, providing networking opportunities for industry professionals such as artists, managers, festivals and institutions. MOST is building bridges connecting the Balkan stage with the global music stage through experience and exchange, as the name of the organization states - "most" translates as "bridge" in various Slavic languages.
MOST channels the creative potential in the Balkan area integrating it in the European flow while making sure to offer sustainable development opportunities through complex training programmes.
Traditional and folk music are valuable goods in terms of cultural exchange, which help develop and maintain a cultural heritage, to name a few values that MOST relies on. All of the efforts come in to support artists, bands, managers, agents, promoters, event managers, club and concert venue owners, festival managers and industry professionals who are determined to step up on the world music stage.
MOST policy includes creating a connection between cities and the music industry, addressing cultural domain and urban planning professionals, whether we're talking about creatives, staff, NGOs, students or researchers. Geographically, the project includes Eastern European block countries Albania, Bosnia and Herzegovina, Bulgaria, Croatia, Kosovo, Montenegro, North Macedonia, Romania and Serbia.
Thanks to the partnership and efforts of Timisoara 2021 - European Capital of Culture Association, MOST was able to reach Romania giving bands, orchestras, musicians, festivals and clubs the opportunity to partake in training courses, internships and mentoring programmes which allow them to connect with the world music stage. Artists can obtain financial support in order to create a portfolio, shoot videos or participate at WOMEX, the most important festival dedicated to cultural operators in the music industry.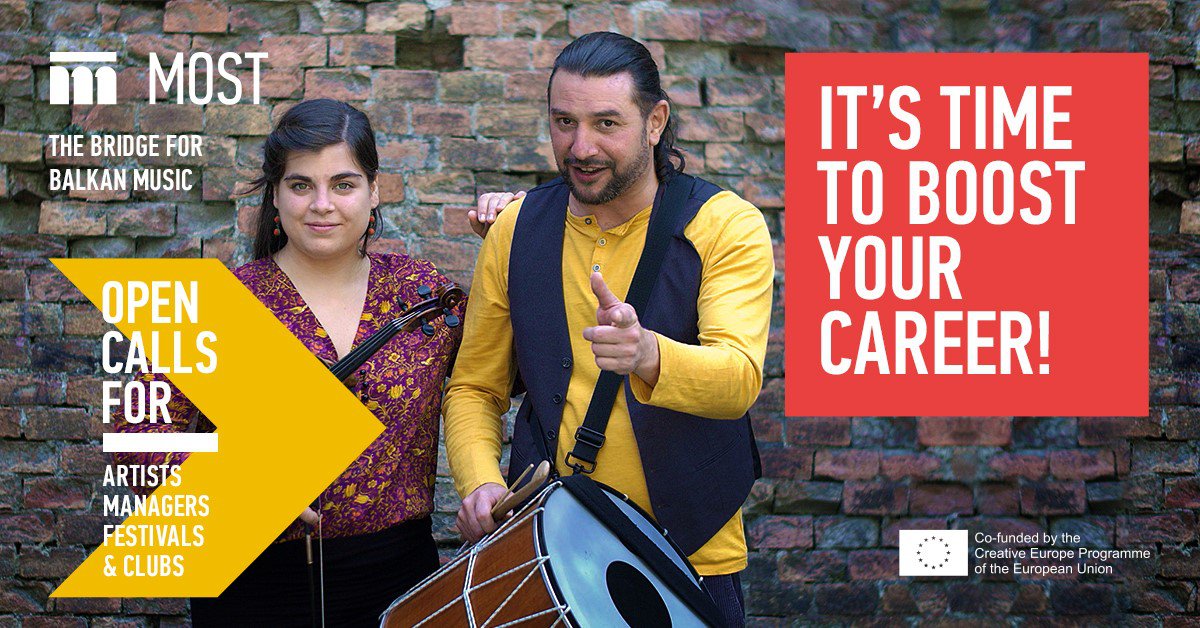 MOST, the Bridge for Balkan Music is looking for applicants!
MOST, the Bridge for Balkan Music is looking for applicants! We want to support young music industry people – you might call yourself a manager, a booker or none of these, but if you work with world music, your place is definitely in MOST! We are also looking for festivals, clubs, musicians and bands. 
Apply now for funding, training, networking and more!
The objective is to represent the unexplored potential of Balkan music and connect its artists with industry professionals and world wide festivals.
Timișoara European Capital of Culture Association is one of the seven partners which managed to put this together: Hangvető Association (Hungary); Piranha (Germany), organizer of WOMEX, the world's leading international music platform; BOZAR, the well-known cultural center in the Belgian capital; EXIT Foundation (Serbia), organizer of the eponymous festival, twice awarded with the best European festival title; The European Music Council, the regional branch of the International Music Council, which aims to make music an integral part of the European way of life; Bulgarian Music Association (Bulgaria) and Remont Capital Cultural Center in Albania.